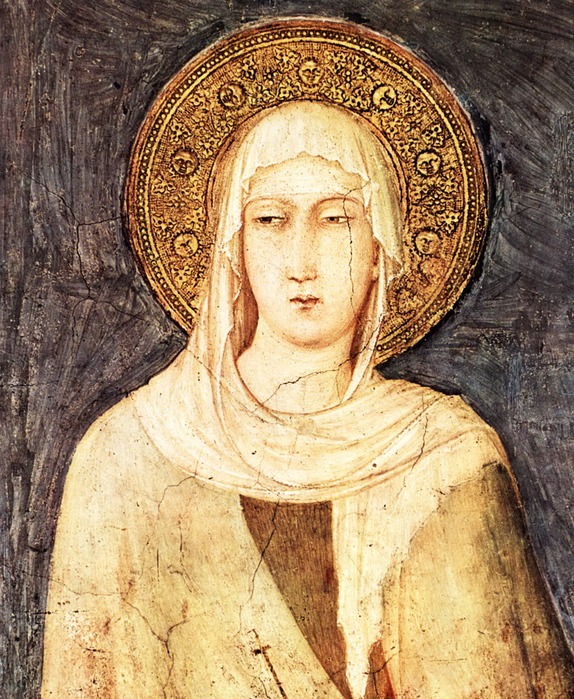 About the Song:
Today is the anniversary of Saint Clare of Assisi's death (August 11 1253) and we celebrate with the church in remembering her incredible life and legacy. Here are some reflections on this amazing woman and our song "Blessing of St Clare" from Like the Tide.
Clare was born into a wealthy Italian family yet she felt a deep calling to care for the poor ever since she was a child. She used to sneak scraps from family meals and distribute them to the hungry outside her door. When Clare was 18 years old she heard Francis preach at the church of St. George of Assisi which then changed the course of her entire life. I wish I could see a manuscript of that sermon!
Although she was arranged to be married, she approached Francis to help her live "after the manner of the Holy Gospel." They became companions. She soon fled her home and joined the convent of the Benedictine nuns of San Paulo.  Her hair was cut and she exchanged her nice clothes for a plain robe and veil.
Soon after, her sister and more women joined her. Eventually Clare started her own order known as the "Poor Clares" who devoted their lives to prayer, poverty, silence, simplicity, and caring for the poor. She was the first women to have a religious rule. Today there are more than 20,000 Poor Clare sisters.
The song "Blessing of St. Clare" on Like the Tide was inspired by a blessing that she was said to have prayed on her deathbed as well as the passage from 1 John 4:18 ("there is no fear in love, but perfect love casts out fear").
"Live without fear:
Your creator has made you holy,
Has always protected you,
And loves you as a mother.
Go in peace to follow the good road
And may God's blessing be with you always."
There are many reasons I am drawn to Clare but mostly I'm drawn to her boldness to live into her calling without fear and to be led by perfect love. I thank God for the life of Clare and the legacy that is still transforming our world.
~ Lacey Brown, of Poor Clare
Lyrics:
Go forth in peace
Follow the good road
Go without fear
For you are loved
Go forth in peace
Follow the good road
Go without fear
For you are loved
There is no fear in love
There is no fear in love
Praise be to God
For having made us
With all expressions of our love
Praise be to God
For having made us
With all expressions of our love
There is no fear in love
There is no fear in love
There is no fear in love
There is no fear in love
All the walls are breaking in
All the walls are breaking in
All the walls are breaking in
All the walls are breaking in
(There is no fear in love)
There is no fear in love
There is no fear in love
There is no fear in love
There is no fear in love